With production lines months, maybe years behind schedule, finding replacement parts is becoming even more difficult post-Covid-19.
Love it or hate it, machinery repairs are part of the job when you operate heavy equipment daily. Things never go quite as planned and there's no avoiding the visits to your local parts store or purchases from online distributors.
But lately parts shelves across the nation have become more and more bare as the effects of the Covid-19 pandemic and the "Great Resignation" wreak havoc on production lines.
New farm equipment inventory is virtually non-existent. But as repairing your used equipment is becomes more important finding parts becomes more difficult. In many cases the timelines to order parts could be months out, or even years for parts that are rarer or less in-demand.
Even if you are able to order parts, ag supply and distribution chains have slowed tremendously, further delaying many urgently needed repairs.
Luckily with a little extra work, resourceful farmers may be able to find the vital parts they need to fix their machinery.
BigIron Co-Owner, Mark Stock, discusses 5 ways he's been able to find replacement parts for his tractors and farm equipment during these unprecedented times:
1. Try a Salvage Yard
Search your local salvage yards to see if they have the farm equipment parts you need. You could also try calling yards outside your area and see if they have them and will ship them to you.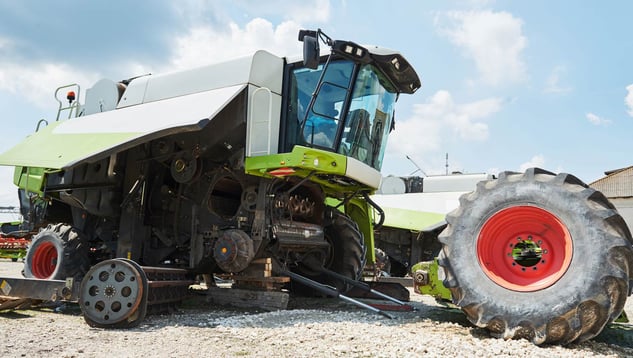 Photo credit: standret via freepik.com
2. Buy a Second Piece of Equipment
An expensive but short-term solution would be to find and buy the same piece of equipment on auction. Online equipment auctions are growing in popularity and many sites, like BigIron auctions sell used equipment parts. You can take the parts from your auction buy to repair your existing unit – essentially taking two pieces of equipment to make one working unit. Then once the parts are available to purchase, you can repair the second unit and sell it. Possibly even for a profit.
3. Inoperable Doesn't Mean Unuseful
Another good auction tactic for finding the ag parts you need is to look for machinery that is inoperable or being sold for parts. This route can also be often be less expensive than buying a fully functioning piece of equipment.
4. Community Matters
Talk to local mechanics or community members to see if they know of anyone with a similar piece of equipment who might have spare parts or be willing to sell/lend you the part you need off their equipment.
5. Contact Large Companies
Reach out to larger companies that may use that style equipment and may keep parts in stock. They may be willing to sell to you.
Though we may be in this situation for a while longer, with a little patience, a little hard work and a little luck, you may be able to find the parts you need to keep your equipment running.
If you're looking to buy used parts or equipment, BigIron Auctions sells thousands of pieces of equipment online every Wednesday. We may have just what you are looking for!
Cover photo credit: standret via freepik.com